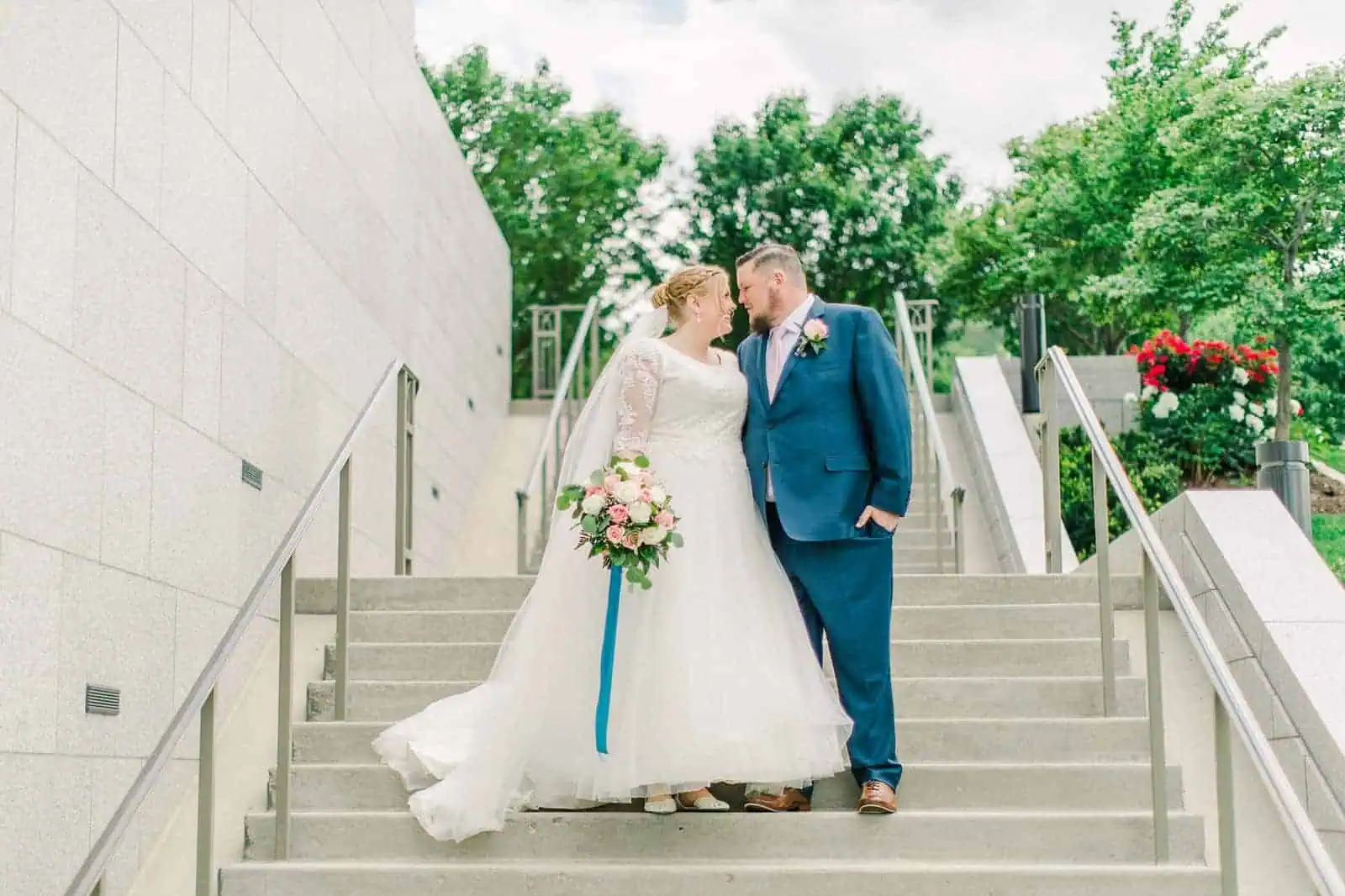 When it's bright and sunny in the summertime, I always love a pretty backyard wedding. This lovely couple was married at the Draper LDS Temple surrounded by the most loving, welcoming friends and family. The groom's three children were present and so excited for the newlyweds!
The best part about photographing couples on their wedding day at the Draper Temple is the spectacular view! It sits on top of a hill overlooking the entire Salt Lake Valley. I never seem to get tired of it. It's such a gorgeous location.
The gray dresses the bridesmaids wore with silver sequins on the bodices were so pretty and flattering on the ladies. The neutral color allowed the pastel colors of the flowers to really shine. I love the bride's classic, elegant style. The lace of her dress with the long, gorgeous train was just perfect for her. Her "something blue" was a lovely velvet ribbon wrapped around her bouquet of white and pink roses. My favorite wedding colors are always the palettes that will remain timeless for years to come.
The reception took place that evening in the beautiful backyard of a family friend. Guests entered the celebration through an arched walkway covered in lush, green ivy. The bride and groom love Mexican food, so they treated their guests to tacos that were so good! You can never go wrong with a taco bar… with extra guac, of course.
The bride and groom opted for bubbles for their grand send off into wedded bliss. I definitely recommend bubbles or something similar for summer weddings. Since it typically doesn't get dark until late into the evening, the popular sparkler exits don't work quite as well unless the couple isn't heading off on their honeymoon until after nine o'clock. Some of my other favorites include flower petals or leaves for a fall wedding, streamers, seasonal herbs like lavender (which also smell amazing!), wedding bells, paper airplanes, or even something unique to the venue like beach balls for a wedding near the ocean. There are SO many great and fun options to make the grand send off special and unique!