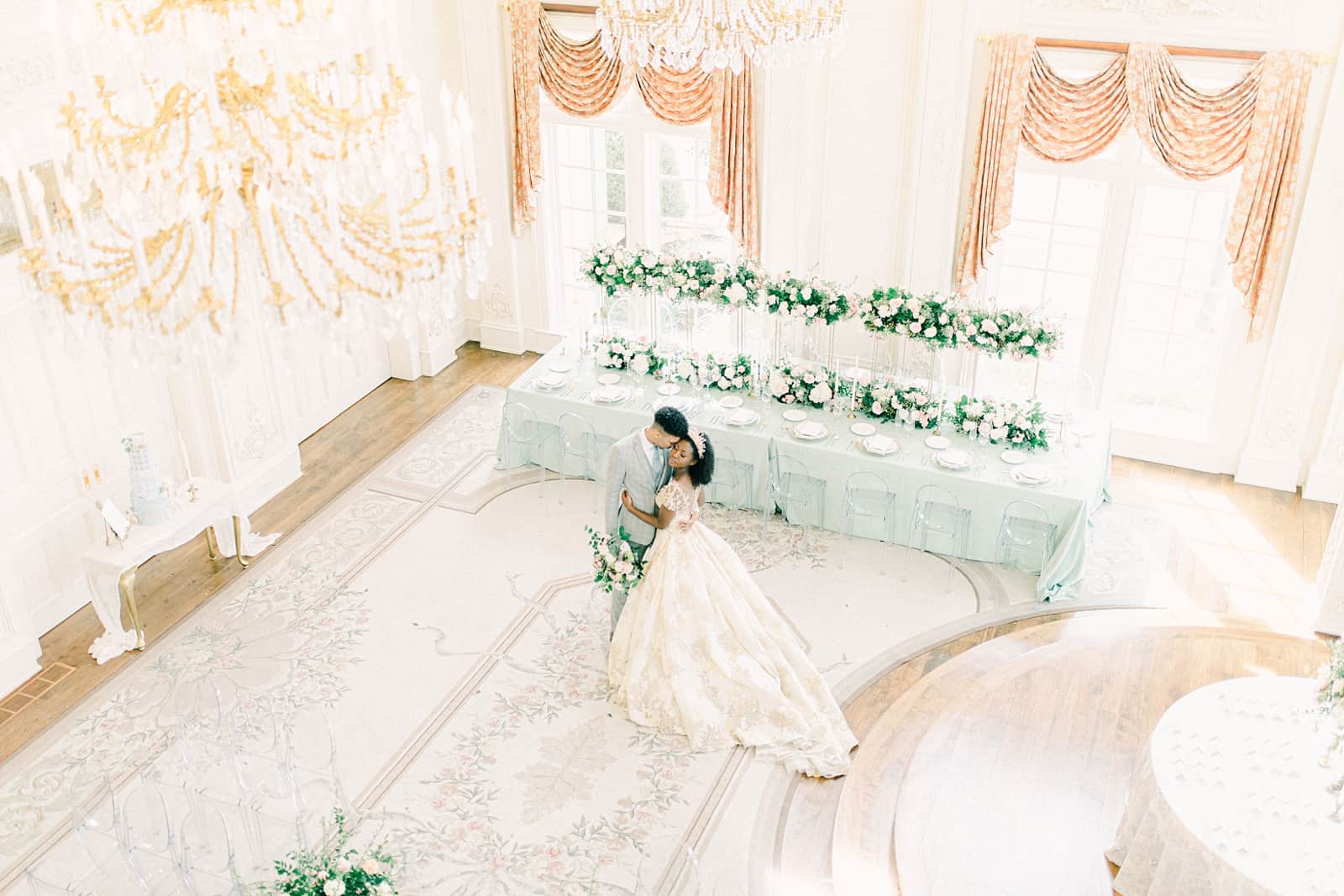 A swatch of Cinderella-blue linen set the tone for the design of this opulent and enchanting ballroom wedding. Taking place at The Olana just outside of Dallas, this gorgeous wedding was a modern day fairytale come to life! The bride was absolutely stunning in her lace ball gown fit for a princess. As the bride and groom waltzed around the venue's elegant ballroom, I could almost hear "So This is Love" playing in my head.
The pops of light blue throughout the details of the day is one of the charming elements that give this wedding its Cinderella status. The decor has the fairytale feeling without being too glamorous or sparkly. It feels soft, feminine and simple but also speaks to the grandeur of the venue with its crystal chandeliers and French baroque-inspired architecture. I love the delicate silk gloves and the lush, elevated florals that create a canopy of greenery and blooms above the dining tables. More contemporary elements like clear ghost chairs and a light gray suit for the groom were also added to modernize this old world romance for a bride and groom of today.
I need to take a second and gush about the wedding cake! Made of three towering layers, it was the most spectacular piece of edible art I have ever seen in my life! No way would I ever be able to eat that thing. The level of detail on every single inch of it was beyond incredible. The sugar flowers looked soft to the touch. The ornate pattern on the top two layers perfectly fit the European style of the venue. It was a show-stopper!
I often have couples in the process of planning their big day ask me if they need to have a "theme." My answer is that no, you don't necessarily have to have a specific theme. However, choosing an element or two that you love can help guide you in the process of selecting a color palette and choosing details that keep things feeling cohesive. If you love the idea of walking down the aisle in glass slippers to marry the prince of your dreams, I will be there to capture every magical moment until happily ever after.