There is something that has become so dear to me about capturing the moments of a wedding day at La Caille, a wedding venue in Sandy Utah. Situated at the mouth of Little Cottonwood Canyon, La Caille is a wedding venue that is about as close as you can get to the base of the mountains. In addition to its function as a breathtaking Utah wedding venue, La Caille is also a working winery. The venue's architecture mimics that of a classic Tuscan Villa. Thus creating an inspired space with hints of European charm.
La Caille opens the grounds of their wedding venue and vineyards to their couples on their wedding day. As you might imagine, the backdrop of your wedding day portraits at La Caille will be filled with luscious vines, sweeping gardens, and quaint pathways. On the afternoon of Dalia and Karmin's wedding, the afternoon sun lay on top of the trees. Creating shadowy pathways with bright backdrops and an added air of sophistication.
ARE YOU SEARCHING FOR AN EXPERIENCED UTAH WEDDING PHOTOGRAPHER WHO CAN CAPTURE YOUR DAY AT LA CAILLE?
FOR MORE INFORMATION ON THE PHOTOGRAPHY EXPERIENCE I PROVIDE, CLICK HERE.
Dalia's approach to planning her wedding was that of an experience. She wanted the day to portray a sense of being open and inviting. But, with a touch of romance in the air. A few different elements come together to achieve this feeling. Attire, florals, and also the reception space. Given that the reception space at La Caille is covered by a glass ceiling, the venue provides the feeling of a warm al fresco celebration. However, you and your guests remain fully protected from the elements. Which allows you to enjoy the best of both worlds.
The warm and inviting atmosphere of Dalia and Karmin's wedding day can also be seen in their florals. The bride's bouquet was curated using Dalia's, to honor the bride's namesake, along with cosmos. Ruffled cosmos added that delicate feeling of romance, tying back to the bride's wedding day vision. The color palette for Dalia and Karmin's wedding flowers was carefully curated with creamy pinks and peaches. Additionally, a soft shade of blue was added for a touch of delicate vibrancy. This color palette was juxtaposed by the groomsmen's bright royal blue suits. A pairing that again drew on the perception of their open, inviting, and romantic wedding day.
With their sacred vows of marriage recited, Dalia and Karmin were off to join their friends and family for their reception. A Zaffa broke out on the dance floor with two drummers welcoming and celebrating the bride and groom. To see more of this fun dance party or the details of Dalia and Karmin's inviting yet romantic wedding day, scroll through the photos below.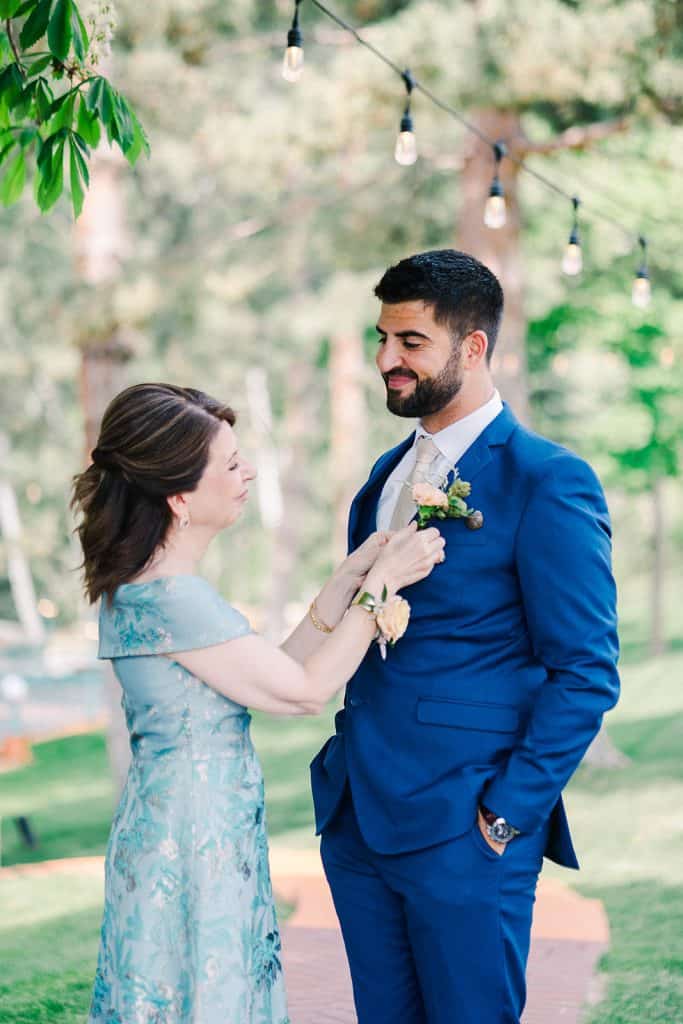 CREATIVE TEAM
Photography | Branson Maxwell
Venue | La Caille
Florals | Wild Earth Designs
Hair | Maggie's Hair and Bridal
Makeup | Katie Livingston
Cake & Catering | Culinary Crafts
Grooms Attire | Generation Tux
Bridesmaids Attire | Revelry