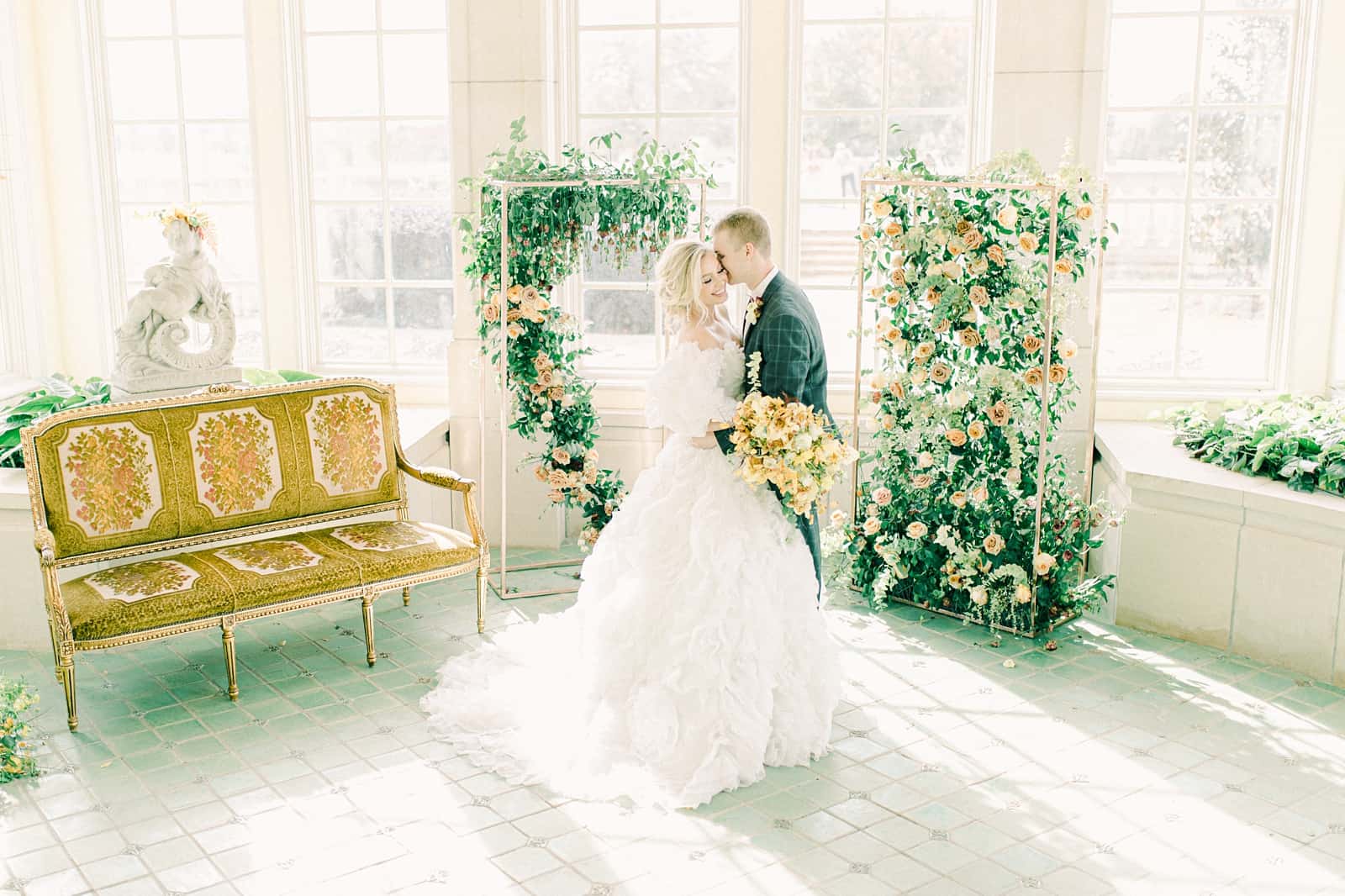 Today, we are heading back to the Olana estate just outside of Dallas, Texas. This secret garden inspired wedding took place in the "green room." The venue is so elegant and this particular space is no exception. It has the feel of a very luxurious greenhouse with wall to wall windows and so much natural light. We'll call it a conservatory meets sitting room.
This stunning wedding was all about the florals! Pulling in elements of nature, the design gave the European-inspired venue a botanical feel. The incredible work of the floral designer included lush greenery with a floral arch, flower-filled backdrops, a magnificent bouquet and centerpieces.
The bride was absolutely stunning in her off-shoulder ball gown that looked like she was floating on a cloud! The groom looked equally amazing in a unique, green plaid suit. The details were gorgeous for flat lays. I love to style the invitation suite and rings to look really pretty with ribbons and florals. The wedding invitation even included a sketch-like painting of the venue, which was beautiful.
One of the most important things I think about on a wedding day is capturing real moments. As much as I love to photograph the beautiful details lovingly chosen, this day is about two people and their love story. Couples in love have a natural chemistry, but once the camera comes out, they can start to worry about how they look and feel a bit awkward. It's one of the number one fears many people have when hiring a professional photographer. That's why I stay away from putting them in uncomfortable positions. Instead, I guide them through the natural transitions of things happening throughout the day to capture candid emotions. I really think it makes all the difference on a wedding day and allows the bride and groom to enjoy the celebration worry free.