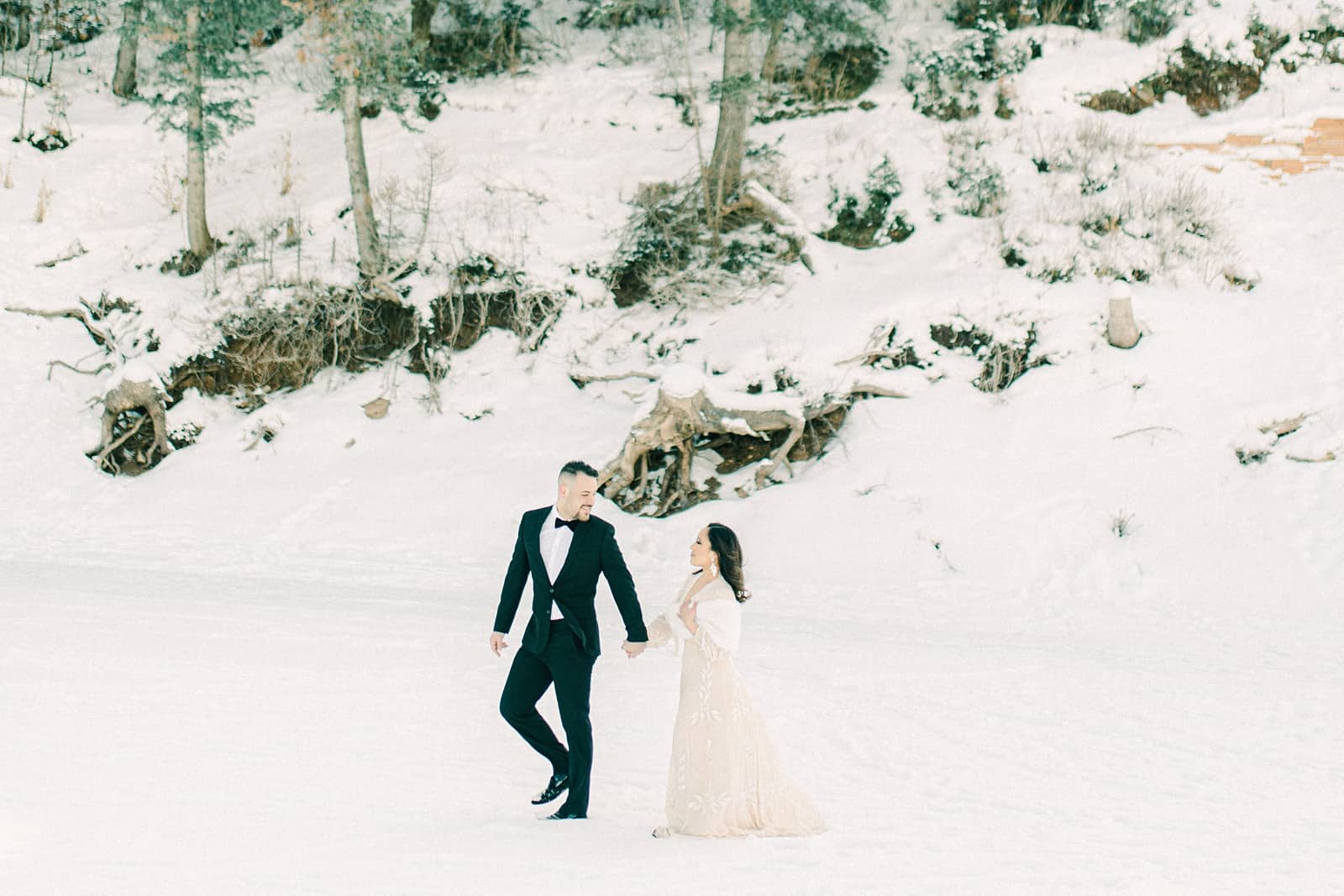 Signs of spring are just starting to peek their way through here in Utah. I've never shied away from photographing couples in the snow though. It can be so beautiful with all of that soft white surrounding a happy couple in love. I photographed this winter engagement session at Tibble Fork Reservoir in American Fork Canyon. This spot is stunning ANY time of the year! I will admit that I especially love it in the winter though. With its towering pine trees and turquoise water, Tibble Fork is one of my most requested locations.
This bride and groom-to-be asked for a luxurious, elegant and high-end style for their engagement session. They also wanted to keep the photos very simple and classic to really showcase the two of them and their love story. They wore neutrals and black and white to reflect this style. I especially loved the bride's beige, embroidered gown and tassel earrings that reminded me of icicles. Her hair and makeup also complimented the elegant feel and paired perfectly with his classic, black tuxedo and bow tie. The two of them looked, in a word, perfect.
We hiked up several steep hills in the snow to capture some of these shots. The photos make it look easy and beautiful. It was not. The reservoir freezes over in the winter, but we made sure to tread lightly and carefully to avoid falling into the icy water. We also took a lot of breaks in the car to warm up our hands and noses. Despite the elements, this session was really a lot of fun! We tossed snow at each other and spent the afternoon laughing as golden light gave everything a magical glow. It was one of my very favorite engagement sessions to date.
Stay tuned for more of this couple soon! Their wedding at the Grand America Hotel in Salt Lake City is coming up in a couple of months!